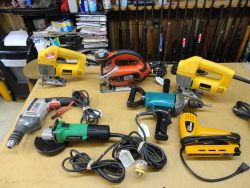 When you visit a pawn center—regardless of whether you're buying or selling—you want to make sure you're getting the best deal possible. Unlike other shops in Greeneville, Greene County, Afton, Tusculum, and Midway, TN that try to make a quick buck on one-time customers, Summer Street Pawn Shop is set up for honesty. We pay competitive rates for your pawn and jewelry store items and we sell everything in our shop for honest, affordable prices.
We invite you to stop by our shop today to take a look at our great selection of available items or take out a pawn loan! We deal in any of the following items:
General electronics: From computers and DVD players, to televisions and a wide assortment of other general electronics, we're the place to visit for technology. We've got great items from some of the best name brands in the industry. And, we're willing to pay for your gently-used electronics.
Firearms: Our shop consistently sees a new inventory of firearms in Greeneville, TN. Whether you're adding to your collection or purchasing your first firearm, we bring you a number of affordable choices, and we can even order your desired firearm! Our shop also offers firearm transfer service from online retailers.
Game systems: Visit us for PlayStation and Xbox consoles, priced affordably below new retail value. Our systems are guaranteed to work!
Gold and jewelry: We buy and sell gold jewelry store pieces and have the expertise needed to properly appraise any items you're bringing us. We'll give you fair market price when you sell gold bullion to us.
Knives: Whether for hunting or general, everyday use, we stock a great selection of knives that appeal to a number of applications. Stop by today to see what we carry in a variety of sizes.
Lawn and garden equipment: Lawn and garden equipment like weedeaters aren't cheap to buy new! We offer great used lawn mowers and other options that help you get the equipment you need, without breaking your budget.
Tools: You'll find a number of quality brand name tools at our shop, guaranteed in full working order. Stop by us before you hit the hardware store and guarantee yourself a great deal!
Our inventory is always changing and we're always looking for new items to add to our shop. Stop by or contact us today to buy and sell or get a pawn loan at Summer Street Pawn Shop!